15/10/2020 - Invitation: on the Road to the Climate Adaptation Summit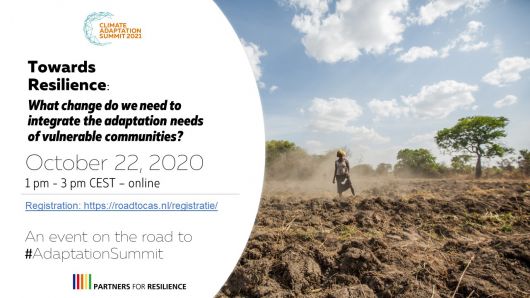 In the lead-up to the international Climate Adaptation Summit (CAS 2021) end-January, the event On the Road to CAS will take place on Thursday 22 October, 2020. Partners for Resilience is happy to be one of the partners of this event and to host a session.
'Towards resilience: what change do we need to integrate the adaptation needs of vulnerable communities?'' a virtual session part of 'On the Road to the Climate Adaptation Summit'
The October 22 On the Road to the CAS event is a preparatory event for the Climate Adaptation Summit (CAS), taking place on the original date of the CAS that will now be held on January 25, 2021. The outcomes of On the Road to CAS will be brought forward to the CAS itself and will serve as a base to build the CAS outcomes which will be sent to COP26. While the other sessions of the event mainly focus on adaptation efforts in the Netherlands, the Partners for Resilience session seeks to broaden the focus to 'look beyond the Dutch dikes'. We engage in dialogues on the change we need in order to better integrate vulnerable communities worldwide, the examples of good practice that exist, and what leverage we have to scale these and accelerate change.
On the Road to CAS is a series of interactive webinars focusing on how the Netherlands is adapting to climate change, with specific attention to Nature-Based Solutions. Everyone can participate online for free via this website. The full proramme can be found here.
In PfR's session, we will investigate replicable and scalable practices in the face of cascading and interconnected risks, and discuss opportunities for upscaling these climate adaptation efforts and making the Paris Climate Agreement a success. This will be articulated through dialogues between grassroots and high-level speakers, recorded by a professional cartoonist. The session will include lessons learnt and takeaways from Partners for Resilience' 10 years of experience in the implementation of our Integrated Risk Management approach. Interactivity is guaranteed through the presence of a cartoonist and exchange in virtual break-out rooms. The detailed agenda of PfR's session can be found here.
Your expertise and insights are essential for a balanced and diverse conversation. We look forward to seeing you on the Road to CAS on October 22.
Please register here https://roadtocas.nl/registratie/