India
Local context
Over three fourths of India is exposed to one or more hazards: the alluvial flood plains of the Ganga and Brahmaputra Rivers are routinely ravaged by floods; the arid and semi-arid zones susceptible to droughts; the coasts exposed to cyclonic storms; and the Himalayas prone to glacial lake outburst floods and landslides. Additionally, 57% of the country is vulnerable to earthquakes.
Further compounding the hazard risk is the socio-economic vulnerability of communities which ensures that almost all hazard events convert into a disaster. An analysis of available data indicates there have been over 9 major disaster events in the country each year during the last 50 years, affecting on average 16.9 million people annually. Over half of these disasters (52%) are water-mediated disasters, i.e. floods and droughts (EMDAT database).
Poor water management, including destruction of natural buffers as wetlands, encroachment of flood plains, and fragmentation of natural water regimes have made communities highly vulnerable. Furthermore, the frequency and intensity of extreme weather events have been on the rise in the last 50 years, due to climate change. These factors, coupled with developmental programming which does not take into account hazard risks, have only exacerbated the risks for vulnerable communities.
The programme
The PfR India programme aims at increasing the resilience of vulnerable communities to rising disaster risks in the face of a changing climate and environmental degradation, enabling sustainable and inclusive livelihoods for women and men.
To achieve this, PfR engages with a wide range of stakeholders (governments, CSOs and private sector entities) at various levels to ensure that an integrated approach to risk management is adopted in policy, and in public and private investments: IRM safeguards and screenings are applied to development programmes to avoid the creation of new risks.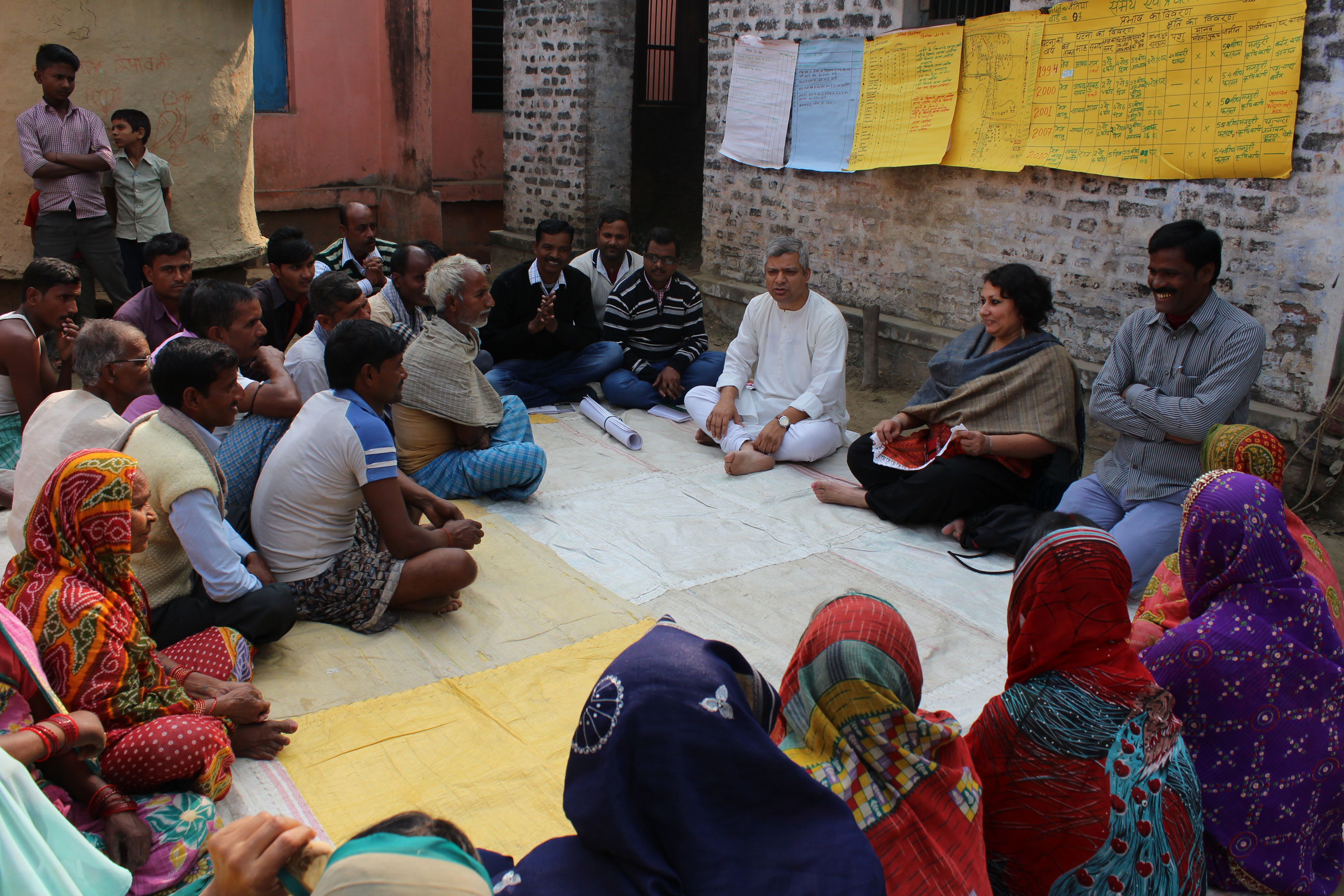 Discussing PfR programme with local communities in Bihar. Photo credit Ipsita Sircar
The programme is being implemented in six states, namely Bihar, Odisha, Uttarakhand, Tamil Nadu, Gujarat and Himachal Pradesh.
Heatwave flashmob
In summer 2017 heat went up in Delhi, and flashmobs were introduced to raise people's awareness on coping with the heat.
They came out of the blue and stopped people in their tracks. In crowded markets, in parks and even at the airport, a 15-member Indian Red Cross Society (IRCS) contingent of young staff and volunteers had found a new way to inform people how to prepare for heatwave temperatures that hit 43°C in Delhi….. You can read the full story here - and watch the video.
In case you want to use flashmobs as a way of raising awareness, and getting your message across: watch this instructional video
Case study: Community Based Risk Management Institutions and Disaster Preparedness: Evidences from Cyclone Phailin