08/07/2020 - COVID-19, Climate and Resilience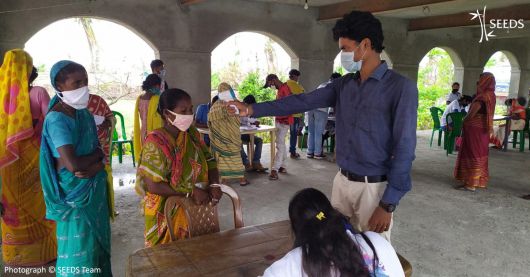 Blog by Raimond Duijsens, Netherlands Red Cross/ Picture credit: SEEDS India, responding to the COVID-19 crisis
COVID-19 is a manifestation of the growing risk of zoonotic diseases which has emerged as economic activities and human movement stretch increasingly deep into ecological areas that are the habitat of exotic species. Once it had transgressed to humans, the Corona virus caught the world ill-prepared. It quickly turned into a pandemic, with far-ranging effects.

The pandemic amplifies poverty, vulnerability and inequality. Those with the least means suffer most: not only are their underlying health conditions and means to access medical services limited, but the measures to curb the pandemic, notably self-isolation and social distancing, severely impact on their ability to earn an income. Consequently the humanitarian needs spread beyond the initial health and WASH sectors to include food security, access to (other) health services, and many other.

In a cynical twist the pandemic and the measures to halt it have increased humanitarian needs, but at the same time limit the ability to provide support: volunteers have less opportunity to move around and get near people who need support, and also distribution of goods is severely hampered.

Like COVID-19, climate change has similar amplifying and multiplying effects. In a parallel trajectory it added and extra layer of vulnerability: the frequency and intensity of disasters, both slow and sudden onset, are increasing, and here too they affect mainly and mostly the poor and vulnerable who have little or no means to protect themselves. Thus, COVID-19 exposes what climate change had deepened already.
Although there is no direct, causal relationship between COVID-19 and climate change, they have similar, and in fact compounding, effects. But while the pandemic is currently more prominent, it is hoped that a vaccine can contain the disease in the foreseeable future. Climate change however will continue to push up disaster risks and affect people and countries, especially the poor and vulnerable, for decades to come. The challenges to address this crisis will likely be even more serious since COVID-19 response may well eat out of available resources. The Red Cross and other humanitarian organizations need to continue remind states of their commitments for climate change adaptation and mitigation.
The above indicates that reducing poverty, vulnerability and inequality is more than ever important to deal with the multiple challenges that have emerged. Strong communities are at the basis: this is where support is organized, and where collective action is taken. Governments, humanitarian and development organizations and other stakeholders are to enable this, through strengthening their resilience. Localization is the best way to ensure that support is well-targeted and that noone is left behind. The current crisis has shown that acting on multiple risks, moving between humanitarian and development needs, and leaning on strong communities – all results of community resilience work – are important factors for successful support: capacities to address one crisis also help to address the other.

The above also indicates the need to protect ecosystems in order to limit the risk of the outbreak of zoonotic diseases. The protection of natural resources needs to be an important consideration in a post COVID-19 world. Here too, resilience building can be the stone that kills two birds, since the preservation of ecosystems is an adaptation measure that also reduces disaster risks. Again, actions and solutions need to be cognizant of the local situation in order to be effective.

Where the COVID-19 crisis has rightly focused attention on the importance of local structures, similar but ongoing and expanded efforts are needed to address the climate crisis. If anything, let COVID-19 at least be a wake-up call to invest in local capacities and build resilient communities to do so