09/01/2020 - Working together to strengthen community resilience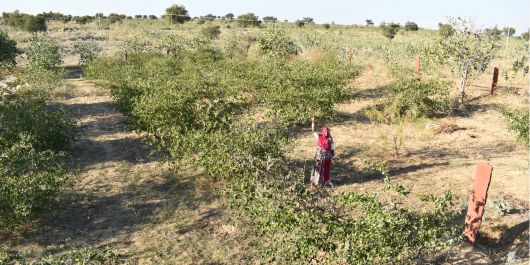 UNNATI has been a partner of the alliance since 2015. Learn more about UNNATI and their work, by reading their recently published case study (found here), which describes how UNNATI has cooperated with local governmental bodies in the creation of a disaster informed plan.
Taking solutions from grassroot level to policy level
Binoy Acharya is the Director of UNNATI, a CSO that has started its work in 1989. The team of UNNATI works in the dry and water-precious states of Gujarat and Rajasthan among others on disaster risk reduction. Based on their experiences in the field, the team has often addressed their ideas for better disaster risk management on the policy level. In this interview, Binoy recounts cases which exemplify how local CSOs can play an important role in strengthening communicty resilience.
UNNATI's work on disaster risk reduction
Binoy passionately describes a significant project on horti-pasture promotion in the desert districts of Rajasthan. In this region, rainfall is limited and agriculture is challenging. Droughts have become a more frequent occurrence in this region as well. To tackle these challenges, UNNATI assisted the communities of Rajasthan in adopting horti-pasture techniques. The implementation of these techniques entail that communities place physical boundaries around their land and catch water in their own underground tanks.
The project has resulted in a yearly increase in agricultural production and profits. Furthermore, due to these techniques, the communities only have to rely on their own sources of water. Before, water had to be drawn elsewhere by the women of the dalit communities. An activity that used to be challenging because of caste discrimination. In this way, self-reliance has also improved the situation of women within the communities. Thus, 'not only climate change issues have been addressed, livelihood and caste discrimination as well.'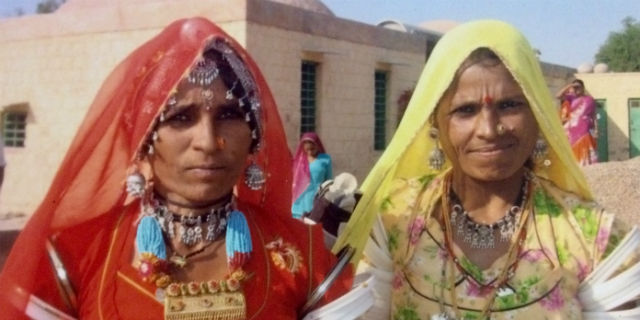 Eventually, the project had an even greater impact: 'The government recognised this successful programme, and 6 years ago, the government accepted the programme under the MGNREGA' (Mahatma Gandhi National Rural Employment Guarantee Scheme*). The horti-pasture project is therefore an important example, which shows that ideas starting at grassroots level can have a positive impact on the state and national policy level as well, ensuring that resources are being made available to expand the programme.
UNNATI's work with the Partners for Resilience
Within the PfR Alliance, UNNATI has been a valuable partner with their thorough expertise on disaster risk reduction. At the same time, UNNATI gained from the knowledge and experiences shared within the partnership. An example of UNNATI's work that helped strengthening local governance under the PfR programme, is a case in Bhachau block, in the Kutch district of Gujarat (read more about this project here). In this region, rainfall is getting more and more unpredictable. After other PfR partners returned from the consultations for the Sendai Framework for Disaster Risk Reduction, they shared their insights with the partners in India. One of the principles of PfR's work (Bridging global developments to the local level) proved its value.
The declaration of the Sendai Framework highlights the importance of disaster governance at the grassroot level. This inspired UNNATI to promote a risk informed development plan at the local level as well. UNNATI adopted a participatory approach to design these plans. Through several consultations with local governmental bodies and communities, two plans were created under The Gram Panchayat (local government) Development Plan: a 5 years plan and a yearly plan. These plans lay out the priorities for the local government in terms of disaster risk reduction.
The work of UNNATI in this region shows how working together with other PfR partners can lead to solutions in disaster risk management and how CSOs can work together with local governmental bodies to mainstream Integrated Risk Management.
Looking back, looking forward: UNNATI and PfR
Binoy reflects positively on working together with the other Partners for Resilience in India: 'When these five partners come into one platform, a lot of dialogue happens. I believe it enriches your own understanding, because you get such a diverse experience. There's a lot of cross-learning happening, and we also support each other.' The support of other partners is something Binoy considers an important part of PfR: 'The relationships are professional and personal in nature. You understand each other.'
Binoy values the support partners give each other in strategizing their ideas. The program enables the partners to take their ideas from the local level to the global level, since many of the partners participate in multilateral forums.
Looking towards the future, Binoy is committed to continue the work: 'We will continue to raise awareness around vulnerable people and climate change.' At the end of the conversation, Binoy also notes that: 'For the future, we even need to work much more closely together.'
* MGNREGA is a rural wage employment guarantee Act, enacted in 2005 to ensure 100 days of employment in a year per family in the rural areas.