12/10/2017 - Home Safe Home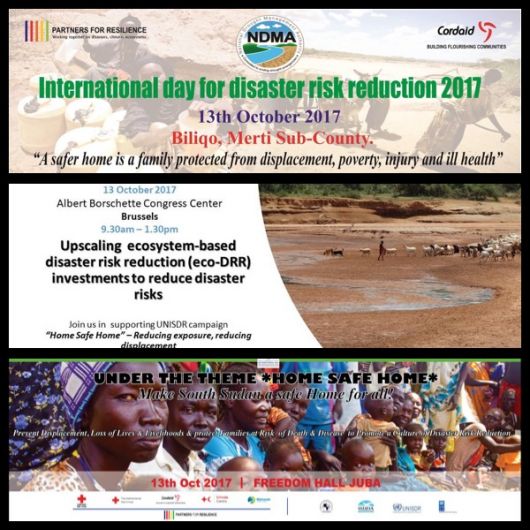 Resilience building towards disasters is a key challenge in many hazard-exposed parts of the world, notably in low and middle-income countries. PfR across the world is organising or participating in specific DDR Day events to ask attention and raise awareness on safer places to live.
Below a selection of planned activities in some of the countries
Mali I In Bamako, a Disaster Risk Reduction conference is organised in cooperation with the Malian government, Ministry of Civil Protection. In Mopti, a DRR conference is being held with the Regional Direction of Civil Protection and the Mopti Regional DRR Platform.
South Sudan I Together with the Ministry of Humanitarian affairs, the Ministry of Environment, UNDP, and UNEP, the South Sudan team is organising a big event to raise awareness regarding prevention and climate. In addition, there are panel discussions and TV debates, in which PfR country team members and other key persons will talk.
Kenya I In cooperation with the national drought management authority PfR is organising an event in Isiolo. The local leaders and community members are invited for this event. Women groups and school children will come with an entertainment programme, demonstrating the theme for the day.
Ethiopia I An exhibition is being held to showcase PfR's contributions related to the theme "Home Safe Home". Read here a blog on the team of the day, written by Woldehanna K. Woldeamanuel
Indonesia I several events are taken place in different locations
Banten Province: In collaboration with the District Disaster Agency, a workshop will be held related to coastal ecosystem protection.
Demak District (Central Java Province)
Eco green camps are held, involving 40 high schools
IRM seminar on "coastal ecosystem protection"
Nusa Tenggara Timur Province incl. Kupang & Timor Tengah Selatan District
Writing competition on IRM and local wisdom smart practices
IRM seminar: "IRM approach: drought and water management"
Exhibitions and photo competition
Radio show: talking about IRM practices in drought affected areas