22/06/2017 - Is Africa learning from past disasters ?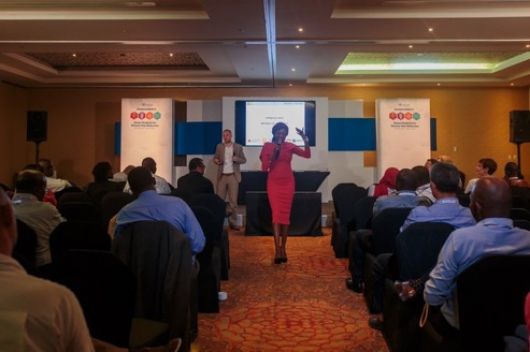 Article by Thandie Mwape, Humanitarian Diplomacy Coordinator PfR
"What is wrong with the African leadership? Why are our people dying in the seas? Why is there hunger when our continent is rich with resources, some of which end up in the West and contribute to the West's economic prosperity ?" Professor Christopher Orach of Uganda's Makerere University vented.
At an event organized by the African Union Commission together with Partners for Resilience and dubbed 'Mitigation of, Response to, and Recovery from El Nino: Is Africa Learning from past Disasters,' Professor Orach expressed frustration and challenged the African leaders to do more.
The question pierced through the room, proceeded by few seconds of silence that 'one could hear a pin drop to the floor', then applause from the audience.
Government leaders, the United Nations, civil society organisations, private sector, students, academicians descended on Cancun in Mexico at the end of May 2017 to review the progress, challenges and opportunities in the implementation of the Sendai framework for disaster risk reduction. The policy framework, was endorsed two years ago in Sendai, Japan and provides the blue print for the work on reducing disaster risks.
Addressing the question to a panel that consisted, among others, the newly appointed African Union Commissioner for Rural Development and Agriculture, Josefa Sacko, Ethiopian State Minister for Food Security Mitiku Kassi and the Inter-Governmental Authority for Development Zachary Atheru , Professor Orach insisted "Africans must ask tough questions to its leadership if this continent is to move forward."
The United Nations estimates that more some 60 million people are faced with food insecurity as a result of drought in 2016/2017. Drought has ravaged agriculture-based local economies and disrupted many other social sectors in health, education, markets and in some instances causing conflicts over diminishing water resources.
The Uganda UN Representative, Rosa Malango went further to challenge the numbers. "I hear of 60 million people affected, but I believe drought impacts have affected much higher numbers across the continent," she said, urging an urgency on how Africa mobilises itself.
Climate change impacts are worsening poor people's exposure to extreme weather events such as droughts and floods. In some countries like South Sudan, Somalia and Nigeria, raging wars have eroded people's ability to meet basic needs and also hampering humanitarian aid from reaching most affected people leading and resulting in a looming famine.
The leaders on stage and in the room took on the challenge to address the concerns on Africa's performance.
"The African Union is not sitting back at all. We are investing in programmes that contribute to making our people self-reliant. The Comprehensive Africa Agriculture Development Programme (CAADP) which African governments have all endorsed, is implementing programmes across the continent that are building the agriculture sector. This is just one example. We also do not want to be responsive to disasters, but also take on a preventative role," Commissioner Sacko commented.
The Inter-Governmental Authority for Development (IGAD) Representative explained that early warning systems are in fact improving and that in view of information already received from scientists that El Nino effects may be expected later in 2017 again, a regional meeting to assess the extent of the warning is already planned and early warning information will be released timely to facilitate early action.
In capturing the challenging question on leadership, Ethiopia's State Minister Kassa brought back optimism to the room by detailing some good lessons from Ethiopia involving the Government' s leadership in a social protection initiative which is co-funded with the World Bank, that is buffering people from falling into extreme hunger situations during this drought period.
"There is also an increasingly steady uptake on insurance schemes against natural disasters. Of course this still needs to get better," Papa Zoumana Diarra of the African Risk Capacity added.
Earlier in the session, the President for Italian Red Cross Francesco Rocca expressed anger at the continued deaths of migrants in the Mediterranean sea.
"These deaths need to stop. This situation must stop. The Italian Red Cross Volunteers have had enough." Rocca stressed referring to the most recent tragedy on 24 May where thirty-four (34) Africans drowned in the Mediterranean in their quest to migrate to Europe.
The United Nations Refugee agency UNHCR estimates that more than 5,000 Africans drowned in the Mediterranean in 2016. Another 1400 are so far recorded to have died this year, according to the International Organisation for Migration. Most die fleeing war and economic hardships in their countries and in pursuit for a better life in Europe. Most of those who make it alive across the sea have their hopes quashed as they end up holed up in camps like the disbanded 'jungle' in Calais in France, infamous for its squalid conditions and rough treatment by Police. Some people end up undocumented and considered illegal making them vulnerable. Many Others , especially children are exploited by human traffickers.
In a somber tone echoing the concern on Africans dying, Malango said, "I don't know what to say when this issue is raised. But a few countries are doing their part. Uganda is doing its part. It now hosts the largest number of refugees on the continent at 1.3 million people. And they are allowed to work. She said she was not advocating for having refugees as the answer and added "but at least these 1.3 million people are not in the Mediterranean. And yes Africa is learning from past disasters. The example from Ethiopia's government leading on social protection initiatives must be amplified and used in other African countries," She emphasized.
It is not clear how the African leadership is addressing the issue of migrant deaths at the continental level aside the meetings reported to have been held with the European Union (EU) to design a common strategy to tackle migrant deaths in November 2015. The EU has adopted a policy that some organisations consider controversial as they are perceived to aim at curbing migration from Africa through incentivizing aid programmes. The Red Cross Red Crescent Movement categorically advocates for protection of migrants, including calling on the provision of safe passage during migration routes.
Africa though is not short of policies and aspirations to reduce disaster risks, among many include the 2011 Ending Drought Emergencies; 2013 High Level Meeting on National Drought Policy; 2014 Malabo Declaration to end hunger and poverty; 2015 Yaoundé Declaration; 2016 Namibia Declaration; 2016 Africa Regional Commitments to implement the Sendai Framework for DRR and 2016 AU-EU Ministerial Outcomes from a Conference held in the Netherlands.
Netherlands Red Cross Head of International Operations, Juriaan Lahr, had commented in a different session that disaster risk reduction is a matter of life and death. "When we fail to reduce risks, we fail to prevent disaster impacts that can easily be minimized. And so we are calling on everyone to invest more in initiatives at local levels to protect the environment but also contribute to local economies," Lahr said. He was speaking in a session dubbed 'Global Ambitions, Local Actions' which addressed ecosystem management and climate change adaptation as approaches in DRR.
After listening to heated discussions on policy issues, migration, and insurance and various mechanisms for early warning to climate risks, Zeituna Roba Tullu of Cordaid added to the discussion, "For communities, it does not matter to them whether its policy this or that, for them it's simply a battle for survival," Tullu said.
"Our focus is on communities. They are our partners and we must invest more financial resources in their abilities to manage risks at local level!" Tullu concluded.