06/07/2022 - We need wetlands: The urgent case for global wetland targets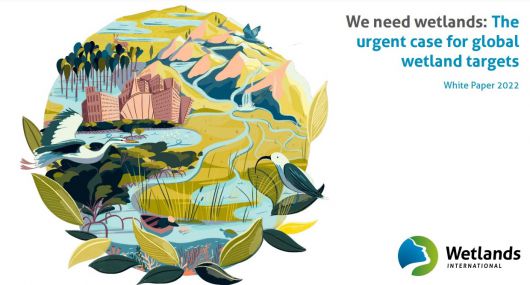 Earlier published on the website of Wetlands International
As critical COP15 negotiations commence in Nairobi in June 2022, Wetlands International has produced a white paper calling for urgent global wetlands targets to be adopted internationally and met within the next decade.
Wetlands are vital to securing a liveable future for people and nature. They sequester carbon, store, filter, and deliver water, protect coasts, support millions of livelihoods, and provide habitats for a staggering 40% of global biodiversity. Yet these ecosystems have been overlooked within global climate and biodiversity policy, and continue to be lost through poor management and lack of protection.
In this white paper, we make the case for wetlands as the unsung heroes in the fight against climate change and biodiversity loss. The white paper provides an assessment of the potential of wetlands to offer a key solution to global warming and biodiversity loss. It looks at the carbon storage potential of wetlands and what this means for limiting global warming to below 1.5 degrees Celsius, before exploring the importance of wetlands for global biodiversity. Key case studies bring real-world context to the data, highlighting the communities that rely on wetlands and demonstrating the gains that can be made for people and nature through the protection and restoration of these critical ecosystems.
Download the white paper here